So today is Dear Husband's birthday, and when I asked him what he'd like for his cake, he asked for blueberry muffins. So, blueberry muffins it is.
Here's a fabulous recipe for them, should you want to join us in a global celebration of Man.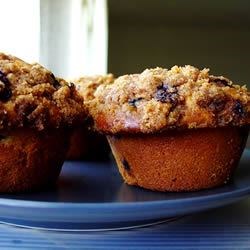 INGREDIENTS
* 1 1/2 cups all-purpose flour
* 3/4 cup white sugar
* 1/2 teaspoon salt
* 2 teaspoons baking powder
* 1/3 cup vegetable oil
* 1 egg
* 1/3 cup milk
* 1 cup fresh blueberries
Topping:
* 1/2 cup brown sugar
* 1/3 cup all-purpose flour
* 1/4 cup butter, cubed (cold butter works best for me, but I use a pastry cutter for blending.)
* 1 1/2 teaspoons ground cinnamon
DIRECTIONS
1. Preheat oven to 400 degrees F (200 degrees C). Grease muffin cups or line with muffin liners.
2. Combine 1 1/2 cups flour, 3/4 cup sugar, salt and baking powder. Place vegetable oil into a 1 cup measuring cup; add the egg and enough milk to fill the cup. Mix this with flour mixture. Fold in blueberries. Fill muffin cups to the top, and sprinkle with crumb topping mixture.
3. To Make Crumb Topping: Mix together 1/2 cup sugar, 1/3 cup flour, 1/4 cup butter, and 1 1/2 teaspoons cinnamon. Mix with fork, and sprinkle over muffins before baking.
4. Bake for 20 to 25 minutes in the preheated oven, or until done.
Note: If using buttermilk instead of white milk, also add 1 tbsp vanilla.